| | |
| --- | --- |
| | Choosing the right endoprosthesis |
Choosing the right endoprosthesis

The ÆQUOS G1 prosthesis incorporates a radically new design, in effect adopting the anatomical structures and biomechanical principles as pioneered by Nature. Normal and healthy performance of the knee is achieved for the first time, as a result of integrating the following critical features of the knee into the design of the endoprosthesis:
-

-

-

-


Normal rolling-sliding motion

Axial rotation

Adduction / abduction

Effective block of over-stretching
As a result, the endoprosthesis has these hallmark properties:
Rolling followed by sliding: This mechanism dramatically reduces wear and tear associated with friction inside the prosthesis, particularly during standing, walking and running. Because of the surface design of the ÆQUOS G1 joint, the rolling motion predominates for bending angles up to 30 deg. As a key consequence, static friction and shear loads on the polyethylene are greatly reduced.
| | |
| --- | --- |
| - | In a healthy knee, rolling means that the femoral condyles migrate backwards on the tibia. This is critical because only this direction of motion is compatible with the function of the ligaments and muscles. The ÆQUOS G1 joint very closely mimics this motion, and for this reason the knee is permitted to work smoothly as one unit. |
| | |
| --- | --- |
| ÆQUOS ™ G1 (a) | Conventional knee endoprosthesis (b) |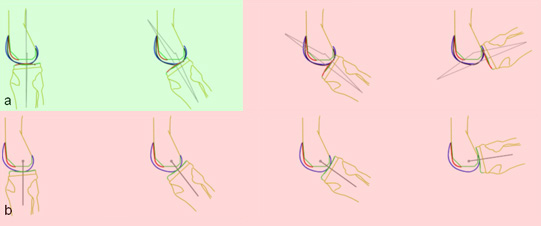 -






-


-

Because of the design of the link quadrangle, the rolling motion is followed by a sliding motion. Only for bending angles above 30 deg does the sliding motion become appreciable, and it dominates for angles above 60 deg. The sliding motion effectively increases the extent of flexion, greatly elevating mobility, e.g. when bending down very low. If mobility is severely limited before surgery, implantation of an ÆQUOS G1 joint will restore it.

The prosthesis comes with a built-in self-stabilizing or self-protective mechanism, effectively preventing the ligaments from getting over-extended.

The ÆQUOS G1 joint also permits axial rotation, as well as abduction and adduction. This additional flexibility acts as shock-absorber and makes walking on uneven terrain much easier.

The ÆQUOS G1 joint optimally restores mobility in the impaired knee – in a reliable and durable way.

Because the ÆQUOS G1 joint closely replicates the kinematics of the natural knee, it minimizes the wear and tear of the polyethylene, a key parameter for the durability of the prosthesis. True-to-nature anatomical shapes and contours make the ÆQUOS G1 self-stabilizing and prevent it from over-stretching. Both aspects are critical for the implant to be stably incorporated into the surrounding bony structures.
In summary, the ÆQUOS G1 joint effectively and rapidly helps restore normal gait and walking performance, while guaranteeing a high degree of range of motion and minimal wear and tear.